FINALLY! It's here! The long awaited outfit post. I ended up going into work yesterday even though I was supposed to have the day off, so I wasn't able to get around to posting my outfit on here. Sorry, guys. But a promise is a promise, so today, I have an outfit post! And hey, better late than never right?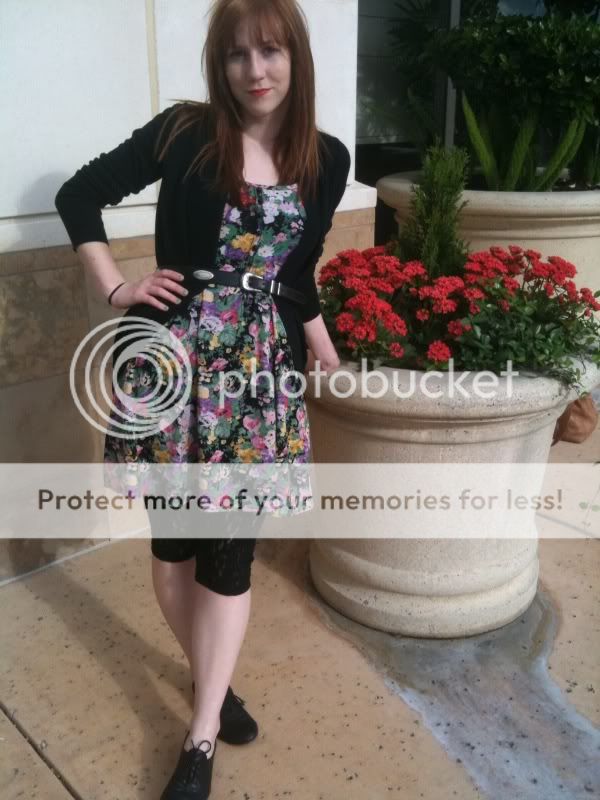 Yes, I took these at the mall outside of Nordstrom. I'm awesome.
I've been so absent from the blog lately, it feels like the awkward few minutes of that coffee date you planned with your friend you haven't seen in a month after you ran into each other and decided you needed to "catch up." It's like, umm soo, I've got so much to tell you and now that we're face to face, I have no idea what to say. So I suppose I'll just jump right in and talk about my outfit, eh? I mean, this is a style blog so when all else fails...
I wore this outfit to go get a MUCH NEEDED haircut. Seriously, my current facebook status: "Kaitlin Cooper is having a bad hair day, everday." That's when you know you've gotta do something about your hair, and yes I just wrote out my facebook status for you on this blog. Embarrassing? Yeah, kinda. Anyway, I went and got my hair cut, as you might notice from my pictures (I'm in love with it.) and then my sister and I headed to the mall since I haven't been to F21 in ages. And ages for me is like 3 weeks, but hey, that's a long time for an addict. I got some really cute stuff I can't wait to share! But, my outfit, right, I'm all over the place. I'm kind of really really in love with this outfit today, mainly because if it was possible to carry on a serious relationship with an item of clothing, I'd be moving in with this dress right about now. I've been wearing it non-stop lately and it looks good EVERY WAY! I especially liked this outfit though, because the dress is pretty girly, and I feel like the bike shorts and the belt make it a little more edgy. This outfit pretty much sums up my style, it's definitely a "go-to outfit" of sorts for me.
Wellll, now that I've written a huge awkward paragraph sort of about nothing, I find I have nothing left to say. So.. goodbye blog world. It's good to be back. See ya tomorrow! (I think...)
Dress: Urban Outfitters
Cardigan: Target
Bike Shorts: Target (online only)
Belt: Vintage
Oxfords: Aldo